Date: May 30, 2002
Location East Ridge Trail Hike
Where: Marys Peak, Siuslaw National Forest
This is a Chemeketan Mid-Week Hike that is attended by Dave Carter, Sharon Wright, Douglas Nicoll, Jim Reichwein, and Doris deLespinasse. We park at the Conner's Camp parking lot and take the East Ridge Trail. We all enjoy wild flowers and start seeing many we enjoy right away, Fairy Lanterns, various Anemones, Oregon Grape, and Snow Queen to name a few. The entire trail is now free of snow, with only thin patches sighted under a few shady trees.

Near the top we find clusters of bright yellow Wood Violets. Both Glacier and Fawn Lilies are poking through the dead grass of winter. Mounds of Phlox decorate the rocky rim. The summit is shrouded in clouds with some wind, so retreat to the parking lot to enjoy our lunch at Observation Point.

Our route back takes in the top section of the North Ridge Trail and then the Tie Trail back to the East Ridge Trail. More flowers are found and identified, and I end up with 30 photos for the day.

Capping of the hike, Doris and her husband Paul, serve us tea and cookies on their deck. Statistics for the day: distance 7.9 miles, time 4 1/2 hours, cumulative climb 1640 feet.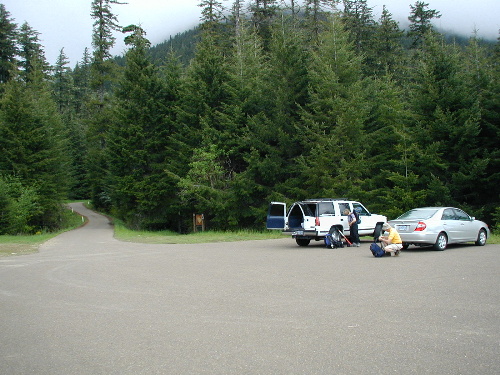 Conners Camp Parking Lot / East Ridge Trailhead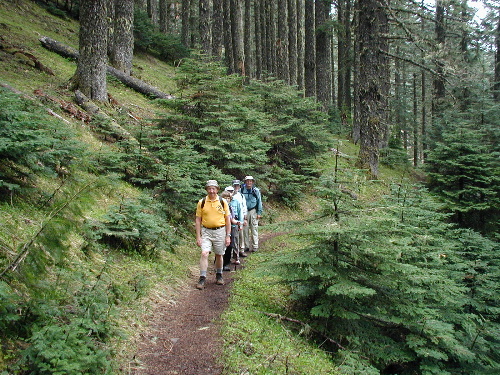 East Ridge Trail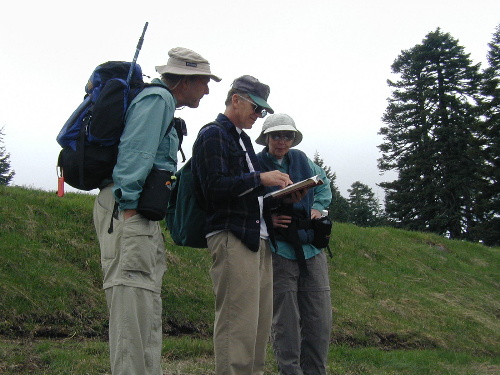 Dave, Jim, & Sharon consulting the flower book