Date: March 23, 1999
Location Imperial Valley Bicycle Tour
Where: Imperial Sea View Spa to Wiest Lake County Park
Recently retired, Jeanette and I packed up our Toyota RAV-4 with bikes and all kinds of biking, hiking, and camping gear and journeyed south to California and the Salton Sea seeking adventures in the sun. My mother had a mobile home at the Imperial Sea View Spa and we spent several weeks sleeping in her porch and hiking, biking and birding in the area.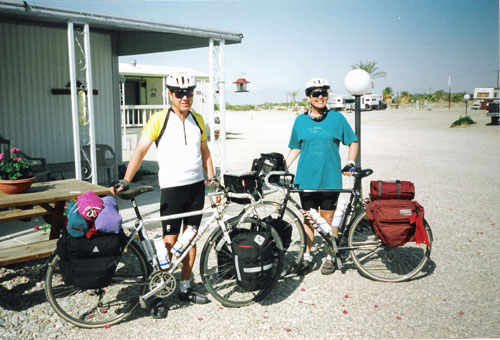 leaving my mom's place at Imperial Sea View Spa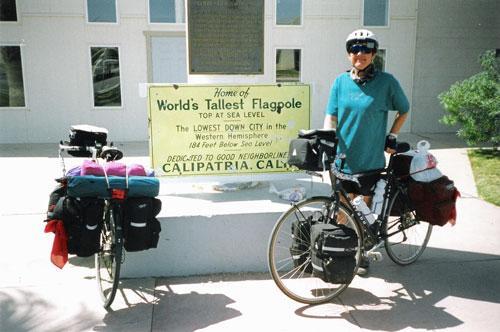 - Calipatria -
We left Imperial Sea View Spa at 9:00, heading south of Highway 111 making our first stop at Niland for groceries. Next stop was the town of Calipatria whose claim to fame is the world's tallest flagpole. While in Calipatria we had lunch and I found a place for a haircut, which the proprietor explained in very limited English, was a "sport cut" meaning very short. Jeanette went next door to the Dollar Store to explore all their treasures. Avoiding busy Highway 111 we took Highway 115 East and then South to County Rd 26 to Weist Lake County Park where we set up camp for our first night. Weist Lake is a strangely quiet place in the busy Imperial Valley, the oppressive humidity though was out staged by the permeating stench from a next door cattle operation.