Date: March 26, 1999
Location Imperial Valley Bicycle Tour
Where: Rio Bend RV & Golf Resort to Agua Caliente County Park
We made a early start of 7:15AM out of Rio Bend because we knew we had a big day ahead of us. Up until now we have been riding on the extreme flat valley floor of the Imperial Valley. Today we would climb into the hills of Anza Borrego Desert State Park and over Sweeney Pass on our way to Aqua Caliente County Park to camp. It turned out to be are longest travel distance so far of almost 48 miles. Leaving Rio Bend, we crossed over busy Interstate Highway 8, and took the old highway through Plaster City to Ocotillo where went caught State Highway 2 that took us up into the rugged country of the Anza Borrego Desert.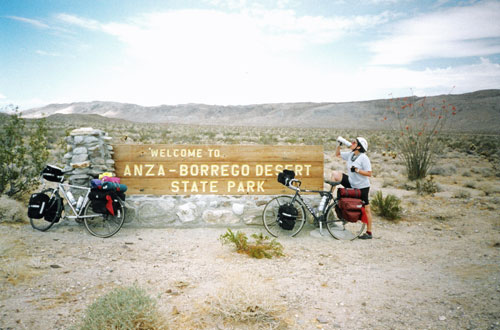 rest stop at the park bondary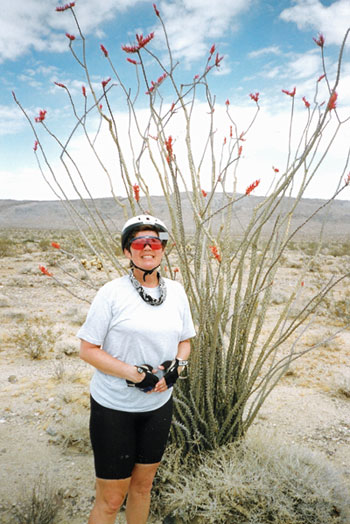 Jeanette and a giant blooming ocotillo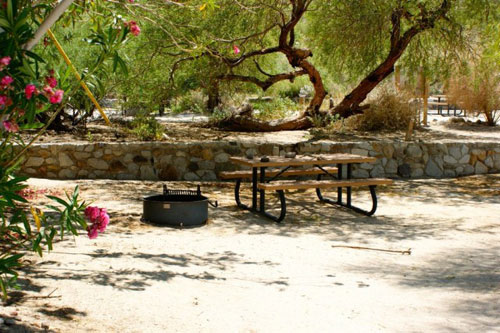 (typical camp site)
It's a beautiful park with a big pool fed by hot springs. We choose to have a layover day here and hike some of the trails.