Date: March 28, 1999
Location Imperial Valley Bicycle Tour
Where: Aqua Caliente County Park to Tamarisk Grove Campground
We got another early start, leaving camp at 6:45, in part because of so many unknowns for the day. We would be circling the Vallecito Mountains and going through places with such ominous names as Earthquake Valley, Box Canyon, and Scissors Crossing. It turned out to be an interesting day as we followed in part the Southern Emigrant Trail Historic Route and Old Overland Stage Road. We made stops at Vallecito Stage Station County Park and the Butterfield Ranch RV Park.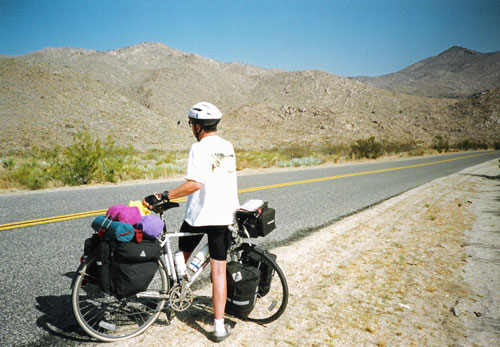 Jim getting a cell phone call
An interesting wrinkle to the day was a phone call from Capitol Toyota my former place of employment. The new Parts Manager was in the middle of taking the semi-annual parts inventory and needed some help. So here I am alongside the road in the Southern California desert on a bright sunny Sunday morning in a conference call to Oregon to some poor souls who are working. Jeanette and I laughed for several miles after that, retirement is the best.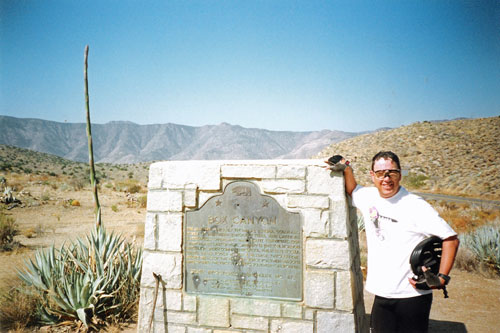 Box Canyon Historical Marker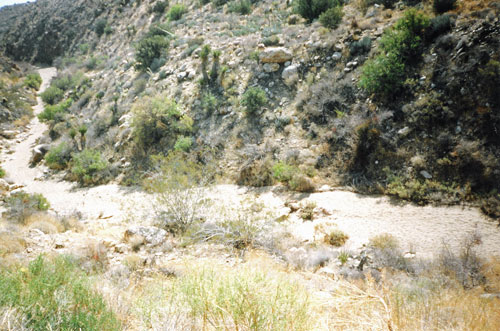 Southern Emigrant Trail Historic Route through Box Canyon